ABOUT US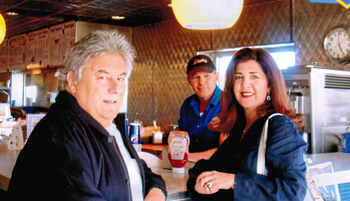 September 11th 2001 changed my life forever. After 19 years as a flight attendant, I decided it was time for a change. Thanks to my dearest mentor and friend, my dreams have come true. Actually, this all dates back to the year of 1952. My friend had a wish, too! Naif Makol, Jr. loved to eat his burgers when he was only knee high to a grasshopper, at which time, he asked his daddy if he would buy him a hamburger store. "Bah" astonishingly honored his son's request, and the family was in Burger Business. We dedicate the vision behind our concept to an exceptional man, Naif George Makol, Sr., without whose foresight and extraordinary business sense this could have not been possible.
Our country was a great place to live in back in the 1950's American families enjoyed simple pleasures like drive-in movies, cruise nights, and car hops. Much has changed today except the memories of a time gone by. Naif Jr. has never let those joyous memories fade so in saying that here we are today.
Naif and I wanted to create a place representative of a time when families gathered together listening to Dion or little Richard on the radio or cruising into their favorite soda shop for burgers or dogs. Skooter's took on a life of its own once we collaborated about the open kitchen concept and sit-down counter service. We've created a warm, family atmosphere which we hope you will enjoy.
Our goal as proprietors is to provide you quick in-and-out service in an upbeat, happy environment at an affordable price. We want to be your home away from home. With Jonathan Karas as a key part of our family and the central force of our operations, I'm sure you will enjoy what he has to bring to the table (pun intended). We hope you delight in the simplicity and of course the great tasting yummy food.
Welcome and thanks for joining our family!
Fondly,

Brenda Stranberg